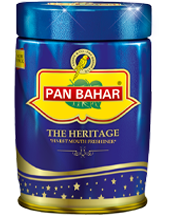 Known to the world as 'THE HERITAGE PAN MASALA', the company has spanned over 50 years of existence through leadership and belief in excellence of taste.
The first effort of making a pan masala were made by Shir Ratanlal Jain in a small home in Kanpur in 1936. At that time home counter was the only point of sale which was run by family members only.
The foundation of organizational entity was set by Shri Praksh Chand Jain in 1966. His passion for pan invented a delicacy called Pan Bahar Pan Masala for which he travelled around the country and procured the best quality ingredients from the richest farms, created a perfect blend of these ingredients and discovered the brand.
The company has always focused to sustain the originality and trend & forces to shape the future of business. To keep alive the belief in exclusivity and exquisiteness of taste, Ashok & Co. Pan Bahar Ltd. Launched 'The World's Most expensive pan masala' Pan Bahar Crystal in 2012 to offer unique and unmatched experience to connoisseur of taste.
The company has a strong foothold in the market today, with one of the largest pan masala brand portfolio like Pan Bahar Crystal, Pan Bahar, Bahar, Begum, Dilruba, Natkhat & Wah, Bahubali & Bahar Select.
Our Vision and Mission provide us a "Road map" for winning together with our Competitors.